APPLY FOR AN ABSENTEE BALLOT
Choose your preferred method to apply.
After you apply, make sure to watch your mail! 
Applications for your Absentee/Vote By Mail ballot will be mailed to your address within a few days.  
FILLING OUT YOUR "Apply By Mail" APPLICATION:
Make sure to check the three boxes for:
All Statewide Elections
City Elections
School Elections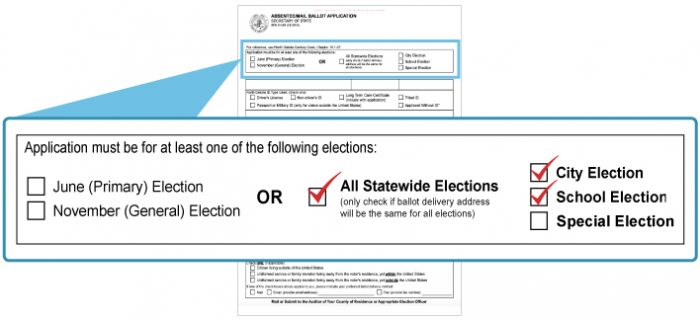 2. Verify Your Information
Complete the required applicant information and sign.
3. Mail It In or Drop It Off
Mail or submit your application to the auditor of your county of residence or appropriate election officer. You can find the address of your election official at this link here.
CASS COUNTY RESIDENTS – MAIL YOUR APPLICATION HERE:
Cass County Auditor
PO BOX 2806
Fargo, ND 58108-2806
VOTING WITH YOUR ABSENTEE BALLOT
After you receive your absentee ballot in the mail, simply fill it out to the best of your ability and seal it in the supplied return envelope.
2. Mail It In -or- Drop It Off
Send in your completed absentee ballot by mail (click here to find what address to send it to) or drop it off at your county auditors office.
Your absentee ballot must be postmarked on or before June 13th to be valid.
Cass County Residents: Drop-offs may be made at the drop-box in front of the Cass County Courthouse at 211 9th St S, Fargo) by June 13th at 5pm.
After mailing in or dropping off your completed absentee ballot, you're all set! Thank you for voting and fulfilling your civil duty.
May 5th – Absentee ballots start being mailed
June 6-10th – Early in-person voting begins
June 13th – Last day to turn in absentee ballots
June 14th – Primary Election Day
You only need an accepted form of ID with your current name and address on file with the ND Dept of Transportation.
Accepted ID Includes:
– ND Driver's License
– ND Non-Driver's License
– Tribal Government Issued ID
– Long Term Care ID Certificate
Check Your Address On File: Click Here
Update Your Address: Click Here
VOTE411.org – Find information on local candidates, polling sites, and more.
ND Secretary of State – Enter your address to find your polling place, the districts you live in, and track your absentee ballot.
Didn't receive an application?
You can download an application from the North Dakota Secretary of State's office, or contact your county auditor to get one sent to you.
Accepted forms of ID:
You will need to have a ND drivers license, a ND non-drivers ID, a tribal ID, or a long-term care certificate (for those in assisted living situations) in order to get a ballot.
What if I lose my application?
For help call the ND Secretary of State's Elections Unit at 701-328-4146 or toll free at 1-800-352-0867, option 6.
Join our Prairie Briefings for ND updates, political news, and commentary: