My Legislator Said WHAT?!?

By now you have all seen the news; in unprecedented proceedings, the North Dakota House of Representatives expelled Rep. Luke Simons from office with a vote of 69 to 25.
The removal of a member of the legislature for harassment and inappropriate behavior is a monumental win; not just for those working in the halls of the Capitol but for working people across the state of North Dakota. It signals that workplaces should be safe and free of intimidation, suggestive comment, and offensive behavior.
But this is not the end of the road to justice, it is merely the beginning.
How do we ensure the system that protected a "habitual offender of decency" keeps working toward "providing a healthy and appropriate work environment for legislators, legislative employees, and other state employees which is free from workplace harassment" as HR 5010 suggests?
The answer is simple; it is by continuing to lead by example.
In this second half of the North Dakota legislative session, our legislators will hear from those advocating to abolish North Dakota's 45 year commitment to the Equal Rights Amendment (ERA) though HCR 4010. The ERA was designed to guarantee equal legal rights for all American citizens regardless of sex. That effort should be resoundingly rejected to illustrate the 67th legislative assembly's commitment to equality and justice.
And, there is HB 1298 the bill to ban transgender teens from participation in school athletic programs. This bill won't make sports safer or fairer for any student—instead it targets and excludes a group of students who already face high levels of discrimination. Transgender students already experience disturbingly higher rates of bullying, rejection, violence, and even suicide. To continue their commitment to creating safe environments free of intimidation and harassment they must prevent this discriminatory bill from becoming law. 
The action to expel Luke Simons for his "history of hostile, threatening, and inappropriate behavior" sets a shining example for all to see; harassment will not be tolerated. Not in the halls of the Capitol, not in our places of work, and not in our schools. Period.
As Martin Luther King, Jr., said, "the arc of the moral universe is long, but it bends toward justice." Change takes a long time, but it does happen and this week we witnessed it. 
So now is the time to dig-in, to continue to hold our elected leaders accountable, and to never end advocating for what we know is right. It is not the end, only the beginning.
P.S. If you haven't read the entire resolution, I suggest that you do. And, if you don't already you should follow Prairie Action ND on Facebook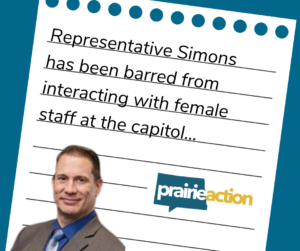 Luke Simons a 'habitual offender of decency" 
Tomorrow the North Dakota House of Representative will vote to expel Representative Luke Simons from office. Simons has a long list of complaints of sexual harassment against women at the state capitol and his behavior will not be tolerated. Contact your state representatives and urge a yes vote on the expulsion of Republican Rep. Luke Simons.
It took an open records request from KFGO News to finally bring to light the allegations against Representative Luke Simons of Dickinson; something Republican leadership was keenly aware of and failed to adequately address. Act now to demand he be expelled from office. 
The documents detail Rep. Simons' unwelcome and inappropriate sexual remarks and physical advances. See timeline below:

November 2016
Luke Simons is elected to the ND Legislature.

 


January 2017
Luke Simons begins first term at the ND Legislature. 


March 2017
Legislative Council female staff reported, "Rep. Luke Simons visited her office during the 2017 legislative session, he leaned over the desk and made a remark about her eyelashes being very beautiful, sort of like his wife's". He also approached her and "began to give her a shoulder massage" without her consent.

"Representative Simons called her regarding a work matter and proceeded to tell her a long story about shopping for thongs at Victoria's Secret because that is what his wife likes to wear. He apparently "jokingly" added that he wears thongs also."


November 2018
Another female staff attorney for Legislative Council reported that Representative Simons asked, "What does immune from liability mean, like if you were in a car accident and I came upon the scene and you were lying on the side of the road, if I took your shirt off to administer aid to a wound I wouldn't be guilty of sexual harassment."


March 2019
After being briefed on complaints against Rep. Simons, Rep. Louser asked if "she [the victim] would have done anything to give Rep. Simons the impression she would be interested in his advances".

John Bjornson, Director of North Dakota Legislative Council, reports "most women in the office want to avoid Rep. Simons" and Rep. Simons is restricted from speaking with female staff.

Rep. Emily O'Brien said the inappropriate behavior by Rep. Luke Simons became so bad that her colleagues had to help her relocate to a desk "further away from him."


February 2020
When discussing issues around Rep. Simons behavior toward women, Rep. Louser defends Simons by saying he is "harmless", "naive", and "just from the ranch".

November 2020
Luke Simons is elected to a second term in the ND State Legislature. 


January 2021
Rep. Brandy Pyle reports that when talking to some legislative interns Rep. Simons made the comment "I would like to put my hands in your hair". 


February 2021
John Bjornson, Director of North Dakota Legislative Council, reports "Clearly there is a major staff reluctance to file a formal complaint because they believe there is a lack of support from legislators for staff regardless of the knowledge that certain legislators are habitual offenders of decency".

Rep. Simons suggested it may be time to bring in new staff in the Legislative Council "like the supermajority in South Dakota did".

In an outburst Rep. Simons shouts profanities ("STFU") at female legislative colleagues over a request for him to wear the required face mask.

An open records request from KFGO News finally brings to light the allegations against Representative Luke Simons of Dickinson; something Republican leadership was keenly aware of and failed to adequately address.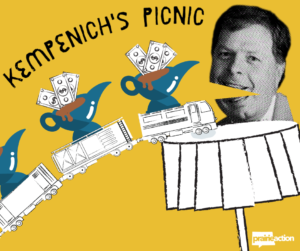 My Legislator Said WHAT?!?!
Posted: 2.19.2021
A true moral conundrum presented itself to the Republican supermajority this week in Bismarck. One that would reveal their true priorities and expose their shamelessnes on the question of: should every worker in the state be able to afford basic necessities like food, shelter and clothing?
For most of us, a living wage doesn't pose much of an ethical dilemma, but let us not forget who we are dealing…
It's not complicated folks. We, the collective, believe that if you work hard, you should be able to provide for you and your family with a safe and secure place to live, food on the table and clothing on your back. In reality, these become empty words for Republicans to mouth as they shun their responsibilities and passively watch more and more working North Dakotans fall into distress and deeper into the economic abyss. According to the testimony of Landis Larson of the North Dakota AFL-CIO "anyone making the minimum wage in North Dakota, no matter how many people are working in the household, or how many children they have, will not be able to meet basic needs on income alone".
In the end, for Republican lawmakers it wasn't so much of an ethical question as an opportunity for a good ol' fashioned dogpile on the state's working poor. With 82, yes 82 members of the ND House, rejecting the idea we should do more to help some of our most vulnerable citizens. And what kind of a crazy, socialist takeover did our courageous, supermajority project us from you may be asking? If passed, the legislation would have raised the state's minimum wage from $7.25 to $9.00 per hour. Sadly, for so many North Dakotans poverty level wages prevail and the struggle for food security continues. Please, can we all remember this and remind our friends and family next election.
And since we are on the topic of food, it gets better.
Remember state legislator Rep. Kempenich (do we even have to list which political party)? Apparently, he is still upset us lowly voters took away his lobbyist paid surf and turf dinners. The "no free lunch crowd" now has a bill to give themselves, um… free lunches, by proposing an increase for meal expense reimbursements. Just so happens this 'feed a legislator' program was up for a vote the very same day as the minimum wage bill and you guessed it, it sailed through the house with a green light. If you look up 'self-serving' in the dictionary you may very well see a picture of the aforementioned Rep Kempenich gnawing on a cowboy ribeye steak.
The moral of the story? The priority for the super majority (a group supposedly working for us, the people of North Dakota!) is 'feed our greed before feeding those in need'.
One Facebook commenter summed it up well when she wrote, "They [ND GOP] expect people to live in a little shack with only bread and water so they can go to their fancy restaurants and have their huge meals on your tax dollars".
My Legislator Said WHAT?!?!
Posted: 2.12.2021

You remember republican Representative Terry Jones, right?
You know, the Rep. Jones who said Black Americans are "glad their ancestors were brought here as slaves".
The Rep. Jones who sent debunked QAnon conspiracy theory videos to the entire legislative body for "informational purposes".
This week he continues to spew ignorance and hate. During the committee hearing on HB 1443, a bill to train law enforcement to identify and report bias crimes, aka hate crimes, Jones says 'white men' are the real victims in today's society.
It is important to note that Rep. Jones represents District 4 which includes the Fort Berthold Indian Reservation, home to the Mandan, Hidatsa, and Arikara Nation. The very people the bill would help to protect.
Watch here:
HB 1443 would provide peace officer standards and training when dealing with bias crimes. The bill would protect victims of a bias-motivated crime in aggravated assault, harassment, and criminal mischief. Hate crimes are unique in that not only does it impact the individual who has been targeted, but it impacts the entire community with which that individual identifies.
My Legislator Said WHAT?!?!
Posted: 2.5.2021
A surprising, yet oddly satisfying, debate transpired between two anti-choice legislators during the hearing on HB1313, the abortion criminalization bill at the North Dakota legislature. Contact your legislators today and demand a NO vote.
This bill proposes one of the most extreme abortion bans in the nation; criminalizing the performance of an abortion, except in the very narrow circumstance. But the bill sponsors didn't stop there. They went further and ensured that anyone who "aids, abets, facilitates, solicits, or incites" an abortion – the pregnant woman, the doctor, and anyone who assists in even indirectly like a friend or even an uber driver- could be arrested and charged with a Class C felony.
The bill is very clearly unconstitutional but the bill sponsor Republican Rep. Jeffery Magrum (Dist. 28, Hazelton) seems to think his clever amendments would trump federal law. Notably, fellow anti-choice legislator House Human Services member Republican Rep. Bill Devlin (Dist. 23, Finely) steps-up to school Magrum on the error of his ways. The result gets a virtual high-five from all those pro-choicers watching on the live stream.
Watch here:
Yes! This bill is "illegal" and banning abortion care in the state of North Dakota is nothing but "wishful thinking" by Magrum and the like. These GOP leaders are intentionally wasting taxpayers dollars in unconstitutional power plays year, after year, after year. Move on! It's time to focus on the real needs of the people of North Dakota like health care, education, infrastructure and ending the pandemic.
Contact your legislators today and demand a NO vote on HB 1313.