Vote By Mail Ballot Application & Voting

To vote in the 2020 elections, submit the Absentee/Vote By Mail ballot application to get your ballot.
BALLOT APPLICATION INSTRUCTIONS
Make sure to check the three boxes for:
All Statewide Elections
City Elections
School Elections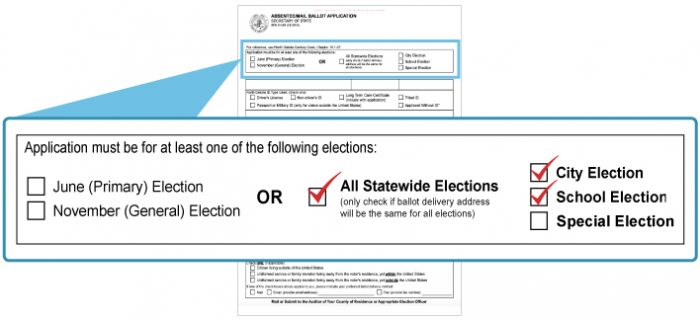 2. Verify your information
Complete the required applicant information and sign.
If you have not returned your absentee ballot application yet contact your county auditor for assistance. They are eager to help.
You will receive a ballot after your application is received and verified.
CASTING YOUR VOTE BY MAIL
Watch for ballot in the mail and VOTE!
If you completed and mailed in your Vote By Mail application make sure to watch your mail for the Ballot.  Once you receive it complete the ballot, sign return envelope, apply postage, and mail it or drop it off at your ballot drop off box.  If mailing, must be postmarked by June 8th.
Ballots must be in the return envelope provided and the return envelope must be signed by the voter.
Ballot envelopes that are returned without a signature will not be processed.
If voters are mailing ballots in, it must be postmarked by June 8th or earlier.  Voters should be careful if they mail the ballots on June 8th, make sure the Post Office postmarks them that day.
If mailing your ballot, remember to affix a first-class postage stamp to the envelope.
Using the Ballot Drop Off Box:
Each county will have one secure ballot drop box; contact the county auditor regarding the location. All county locations here.
Ballots can be deposited 24 hours a day, 7 days a week until 4:00 p.m. on Election Day June 9th in the county secure ballot drop box.
I didn't receive an application?
You can
 download an application
 from the North Dakota Secretary of State's office, or contact your
 county auditor
 to get one sent to you.
Accepted forms of ID?
You will need to have a ND drivers license, a ND non-drivers ID, a tribal ID, or a long-term care certificate (for those in assisted living situations) in order to get a ballot.
What if I lose my application?
For help call the ND Secretary of State's Elections Unit at 701-328-4146 or toll free at 1-800-352-0867, option 6.
All other questions?
All questions about ballots or voting by mail should be directed to your county auditor. All county auditors listed
here.
Join our Prairie Briefings for ND updates, political news, and commentary: