Whether you have five minutes to take a quick action right now, you're looking for a way to get more involved in your community, or anything in between, we need you to speak up, show up, and stand up progressive values in North Dakota.
Together, we are a powerful force building a state where everyone has a fair opportunity to succeed. Check out the options below to get started!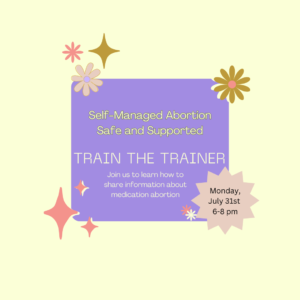 Self-Managed Abortion, Safe & Supported Training 



Now more than ever, we need to claim the power to determine our own reproductive destinies! People, in every corner of the country, are using abortion pills on their own to end their pregnancies at home. The pills are safe and effective, but accurate information and support are needed. That's where you come in! You are invited to join 'Self-managed Abortion: Safe and Supported' (SASS), a webinar hosted by Prairie Action ND Institute.  
Date: Monday, July 31st, 6-8 pm CST
Location: Virtual Registration required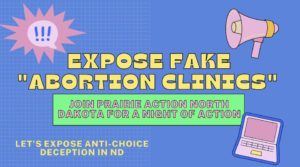 Unmasking Deception: Exposing Fake Clinics
Join us for an eye-opening event! Learn about the deceptive practices of fake clinics, also known as Crisis Pregnancy Centers (CPCs). These anti-abortion centers use phony ads to trick pregnant individuals into appointments, offering "free ultrasounds" or "pregnancy support" without comprehensive reproductive health care. Expose the truth and defend reproductive rights!
Date: Thursday, June 22nd at 7pm 
Location: The Loft at Wild Terra 
6 12th Street North Fargo, ND