Whether you have five minutes to take a quick action right now, you're looking for a way to get more involved in your community, or anything in between, we need you to speak up, show up, and stand up progressive values in North Dakota.
Together, we are a powerful force building a state where everyone has a fair opportunity to succeed. Check out the options below to get started!
Time Sensitive Action: Ensure North Dakotans can access food!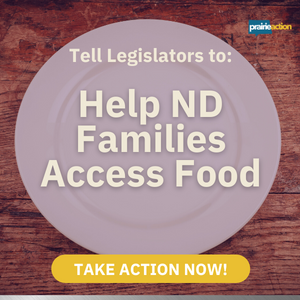 Hunger Advocates are asking the ND legislature to provide $3 million, from the 1 BILLION dollars in federal funds, for food infrastructure, such as refrigerators and freezers, and assistance with getting food where it needs to go. Take this action now!
The pandemic uncovered a need for more refrigeration and freezer units to keep perishable and the most nutritious foods to where they are most needed: to serve children, our seniors, and all who live in rural areas.
Speaking out on behalf of others who may not be able to speak for themselves is one of the most important things that people in North Dakota can do to help build a hunger-free state.
Tell the North Dakota House Appropriations Committee to support an amendment to SB2345 to direct a small percentage of the ARPA funds ($3 million) toward getting food where it needs to go in our state. Send this message!
Tell the ND Legislature:
Families can't wait. Fix the child care crisis NOW!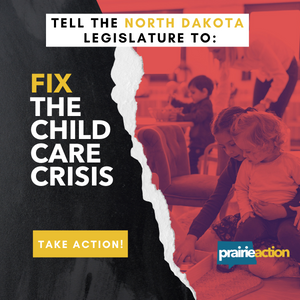 One billion dollars. That is the amount of federal dollars provided to the state of ND through the American Rescue Plan Act (ARPA) for post-pandemic relief. Child care is at the forefront of the lives of working families in ND and it should be top priority for funding. Take Action here!
While ND's businesses have shown  resilience in the face of public health and economic challenges, it is clear from the ongoing labor shortage that a full recovery requires additional solutions and access to affordable, quality child care is key. Send this letter now!  
The ND legislature  has an opportunity that cannot be squandered. Investing now in child care will stabilize families and stimulate the economy.
Keep Texas Abortion Ban OUT of North Dakota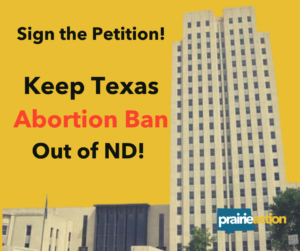 Reproductive health and rights are under attack across the country. Anti-choice legislators in North Dakota are looking to copy & paste the Texas abortion ban here at home. 
Add your name to the list of North Dakotans who say to Senator Janne Myrdal and the Republican leadership, "Not Here, Not Now, Not EVER!"
Call them out for their atrocious abuse of power and push back on their out-of-touch political agenda. Enough is enough!
Sign the petition.