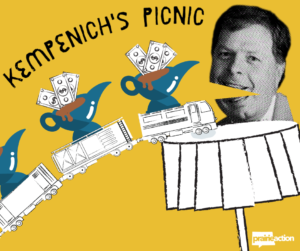 My Legislator Said WHAT?!?!
Posted: 2.19.2021
A true moral conundrum presented itself to the Republican supermajority this week in Bismarck. One that would reveal their true priorities and expose their shamelessnes on the question of: should every worker in the state be able to afford basic necessities like food, shelter and clothing?
For most of us, a living wage doesn't pose much of an ethical dilemma, but let us not forget who we are dealing…
It's not complicated folks. We, the collective, believe that if you work hard, you should be able to provide for you and your family with a safe and secure place to live, food on the table and clothing on your back. In reality, these become empty words for Republicans to mouth as they shun their responsibilities and passively watch more and more working North Dakotans fall into distress and deeper into the economic abyss. According to the testimony of Landis Larson of the North Dakota AFL-CIO "anyone making the minimum wage in North Dakota, no matter how many people are working in the household, or how many children they have, will not be able to meet basic needs on income alone".
In the end, for Republican lawmakers it wasn't so much of an ethical question as an opportunity for a good ol' fashioned dogpile on the state's working poor. With 82, yes 82 members of the ND House, rejecting the idea we should do more to help some of our most vulnerable citizens. And what kind of a crazy, socialist takeover did our courageous, supermajority project us from you may be asking? If passed, the legislation would have raised the state's minimum wage from $7.25 to $9.00 per hour. Sadly, for so many North Dakotans poverty level wages prevail and the struggle for food security continues. Please, can we all remember this and remind our friends and family next election.
And since we are on the topic of food, it gets better.
Remember state legislator Rep. Kempenich (do we even have to list which political party)? Apparently, he is still upset us lowly voters took away his lobbyist paid surf and turf dinners. The "no free lunch crowd" now has a bill to give themselves, um… free lunches, by proposing an increase for meal expense reimbursements. Just so happens this 'feed a legislator' program was up for a vote the very same day as the minimum wage bill and you guessed it, it sailed through the house with a green light. If you look up 'self-serving' in the dictionary you may very well see a picture of the aforementioned Rep Kempenich gnawing on a cowboy ribeye steak.
The moral of the story? The priority for the super majority (a group supposedly working for us, the people of North Dakota!) is 'feed our greed before feeding those in need'.
One Facebook commenter summed it up well when she wrote, "They [ND GOP] expect people to live in a little shack with only bread and water so they can go to their fancy restaurants and have their huge meals on your tax dollars".
My Legislator Said WHAT?!?!
Posted: 2.12.2021

You remember republican Representative Terry Jones, right?
You know, the Rep. Jones who said Black Americans are "glad their ancestors were brought here as slaves".
The Rep. Jones who sent debunked QAnon conspiracy theory videos to the entire legislative body for "informational purposes".
This week he continues to spew ignorance and hate. During the committee hearing on HB 1443, a bill to train law enforcement to identify and report bias crimes, aka hate crimes, Jones says 'white men' are the real victims in today's society.
It is important to note that Rep. Jones represents District 4 which includes the Fort Berthold Indian Reservation, home to the Mandan, Hidatsa, and Arikara Nation. The very people the bill would help to protect.
Watch here:
HB 1443 would provide peace officer standards and training when dealing with bias crimes. The bill would protect victims of a bias-motivated crime in aggravated assault, harassment, and criminal mischief. Hate crimes are unique in that not only does it impact the individual who has been targeted, but it impacts the entire community with which that individual identifies.
My Legislator Said WHAT?!?!
Posted: 2.5.2021
A surprising, yet oddly satisfying, debate transpired between two anti-choice legislators during the hearing on HB1313, the abortion criminalization bill at the North Dakota legislature. Contact your legislators today and demand a NO vote.
This bill proposes one of the most extreme abortion bans in the nation; criminalizing the performance of an abortion, except in the very narrow circumstance. But the bill sponsors didn't stop there. They went further and ensured that anyone who "aids, abets, facilitates, solicits, or incites" an abortion – the pregnant woman, the doctor, and anyone who assists in even indirectly like a friend or even an uber driver- could be arrested and charged with a Class C felony.
The bill is very clearly unconstitutional but the bill sponsor Republican Rep. Jeffery Magrum (Dist. 28, Hazelton) seems to think his clever amendments would trump federal law. Notably, fellow anti-choice legislator House Human Services member Republican Rep. Bill Devlin (Dist. 23, Finely) steps-up to school Magrum on the error of his ways. The result gets a virtual high-five from all those pro-choicers watching on the live stream.
Watch here:
Yes! This bill is "illegal" and banning abortion care in the state of North Dakota is nothing but "wishful thinking" by Magrum and the like. These GOP leaders are intentionally wasting taxpayers dollars in unconstitutional power plays year, after year, after year. Move on! It's time to focus on the real needs of the people of North Dakota like health care, education, infrastructure and ending the pandemic.
Contact your legislators today and demand a NO vote on HB 1313.